Students at the After School Program are designing tiny houses to help solve the problem of homelessness!
So many fun extracurricular activities planned for this week! Spirit Week is for all grades, whereas the STUCO Tailgate is for grades 7-12.
Crime Scene Investigation lab day in Mrs. Faulkner's Biomedical science class!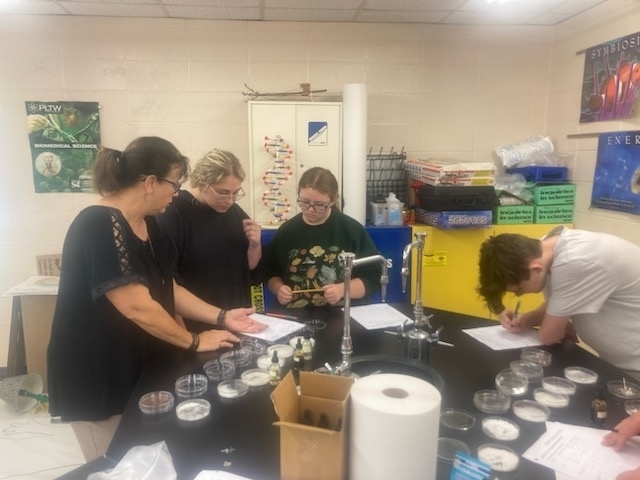 Livestock & 4H mtg for tonight will now take place in Mrs. Stroud's room in Izard County Middle School building. MONDAY, 9/11/23 @ 6 PM
Updated home volleyball schedule and themes. Go Lady Cougars!
Monday from 9:19 to 10:49 AM, we will be having our annual 9/11 Memorial Tribute at the Brockwell campus. We have invited representatives from every first responder department and agency in the county, and will also be landing two helicopters (Air Evac and Survival Flight). This notification is to let the community know, as we do not want to cause any worry or concerns. Students in our Emergency Preparedness and Criminal Justice programs always do a phenomenal job honoring all affected by the events that took place on 9-11-01.
Students grades K-12 are invited to attend the Izard County Show Team/Livestock 4H Club Meeting on September 11 at 6 PM.
Happy Labor Day! No school for students on Monday (Labor Day) or Tuesday (teachers will be in professional development meetings).
Friday Night Lights = Time to Tailgate
ICC Before School and After School Programs will begin on Monday, August 28. Students registered for the BSP can be dropped off at 6:30 AM. Transportation home from the ASP is available. Please call the elementary office for more information on these free programs!
The Lady Cougars will show their support for Highland's Sadie Meyer, who was recently diagnosed with Acute Myeloid Leukemia, by wearing orange during Monday night's volleyball games. They encourage all fans to do the same! The Lady Cougars will play the Lady Rebels at Highland, beginning at 4:30.
The Izard County Cougars jumped out to a 30-0 first quarter lead and 46-0 at the half at Cedar Ridge. The Cougars increased their lead to 52-0 in third quarter before Cedar Ridge was able to get on the board. The Cougars' Wyatt Buchanan passed for 4 TD passes in the first half. Gabe Spray had 2 TD receptions, Cash Arnhart and Porter Burton had a TD reception each for the Cougars. Xander McCandlis and Micah Olson scored a rushing TD each in the first half for the Cougars.
Beginning of school Bus Driver's meeting today with bus drivers and administrators planning for new year! We are very thankful for all of our bus drivers in helping keep our students safe every day!
Thank you to FNBC for sponsoring lunch from The Grind, during our teacher in-service today!!!
📣 Calling all ICC preschool, elementary, middle and high school students 📣 We hope to see you at Open House!